Nico Tortorella explores identity and gender in a new memoir that honors authenticity.
Harry Potter author J.K. Rowling has made a substantial donation for research into the treatment of multiple sclerosis at a center named after her late mother.
Winning an honorary National Book Award has Edmund White thinking about the more pleasurable moments of the writing life.
When "The Handmaid's Tale" was published in 1985, some readers found the idea of a fundamentalist state supplanting the democratic United States far-fetched. Now it strikes many as eerily prescient.
When Casey McQuiston began writing "Red, Hot and Royal Blue," she never thought it would be one of this summer's hot reads. EDGE caught up with the queer novelist to talk about the book, its success & upcoming film version.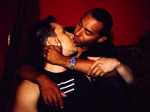 A Brazilian Supreme Court justice has blocked efforts by Rio de Janeiro's conservative mayor to have a book fair remove a comic book showing two men kissing.
Former White House Press Secretary Sarah Huckabee Sanders has a book deal.
From a park bench on the Victoria College campus, Margaret Atwood — class of 1961 — can trace her life of the mind.
"The London Literary Pub Crawl ," a popular tour that takes tourists to the favorite hangouts of legendary writers, allows literature fans to stand at the site where "A Clockwork Orange" author Anthony Burgess and his wife watched a gang destroy the Duke
A federal jury sided Wednesday with novelist Nicholas Sparks and the private Christian school he founded in his North Carolina hometown, dismissing claims by the school's former headmaster that he was unjustly fired and then slandered by the author.