1 thru 10 of 1464 Stories
The world's largest carmaker is creating its first all-electric plant and phasing out production of the internal combustion-engine cars built by generations of local workers.
One out of six Uber and Lyft drivers in the New York City and Seattle areas are driving vehicles with outstanding recalls, according to Consumer Reports.
Ford revealed details of its long-awaited restructuring plan Monday as it prepared for a future of electric and autonomous vehicles by parting ways with 7,000 white-collar workers worldwide, about 10% of its global salaried workforce.
President Donald Trump on Friday delayed any decision to impose tariffs on car and auto-part imports, deciding against ratcheting up trade disputes or impacting ongoing talks with European nations and Japan.
Ford is adding 270,000 vehicles to a recall in North America to fix a gearshift problem that could cause them roll away unexpectedly. The addition covers certain 2013 through 2016 Fusion midsize cars with 2.5-liter engines.
A popular selling point for electric vehicles is the notion that you never have to stop for gas. Your "gas station" is in your garage — simply plug in your vehicle to charge it overnight. But what if you live in an apartment?
Japanese automaker Nissan, reeling from the arrest of its former chairman Carlos Ghosn, reported Tuesday that annual profit nose-dived to less than half of what it earned the previous year, and forecast even dimmer results going forward.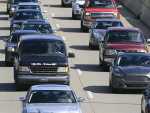 The state with the highest car insurance premiums in the country is on the verge of a political showdown over long-running efforts to cut rates by reining in generous medical benefits.
A fare war between Uber and Lyft has led to billions of dollars in losses for both ride-hailing companies as they fight for passengers and drivers.
Uber's next stop is the stock market, where it hopes to pick up more investors willing to bet on a ride-hailing market brimming with potential and conspicuously lacking in profits.
1 thru 10 of 1464 Stories