1 thru 10 of 2310 Stories
To anyone who figured the path of legalizing recreational marijuana use ran along blue state-red state lines, a sudden setback for pot advocates in New Jersey may show the issue isn't so black and white.
Britain has just a few weeks to break its Brexit impasse, with the fate of the country's departure from the European Union, and of Prime Minister Theresa May, both hanging in the balance.
Schoolteacher raises of $5,000 are on the table in Texas — a proposed pay hike that ranks among the biggest in the U.S. since a wave of teacher unrest began last year. But protests aren't why the money is suddenly available.
Norwegian officials said Monday they have opened an investigation into why a cruise ship carrying more than 1,300 people set sail despite storm warnings, forcing a major evacuation.
President Donald Trump on Sunday celebrated a "total exoneration" that special counsel Robert Mueller explicitly did not provide in his report on the Russia investigation.
A majority of Americans favor stricter gun laws, and most believe places of worship and schools have become less safe over the last two decades, according to a new poll conducted by The Associated Press-NORC Center for Public Affairs Research.
New York state's ban on personal ownership of stun guns is unconstitutional, a federal judge ruled Friday in the latest in a series of court decisions that have led to the loosening of restrictions on the weapons in several states.
Trump misrepresented McCain's record on matters stretching from McCain's school days to his funeral, as he went on a tear about the late Arizona senator, Republican presidential candidate, Vietnam War naval aviator and tortured prisoner of war.
President Donald Trump signed an executive order Thursday requiring U.S. colleges to protect free speech on their campuses or risk losing federal research funding.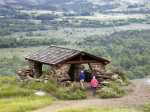 Parties involved in a dispute over whether North Dakota regulators should be involved in the siting of an oil refinery near Theodore Roosevelt National Park have filed their initial legal arguments in state court.
1 thru 10 of 2310 Stories