President Donald Trump is edging closer to declaring a national emergency to fund his long-promised border wall, as pressure mounts to find an escape hatch from the three-week impasse that has closed parts of the government.
There's no end in sight to the partial federal shutdown and, more distressing to federal workers, no paycheck in sight either. It's a burden that few American households can bear without strain. Some experts weigh in with tips on how to cope.
Here's what's up with the partial government shutdown on Day 22.
Federal employees received pay stubs with nothing but zeros on them Friday as the effects of the government shutdown hit home, deepening anxieties about mortgage payments and unpaid bills.
Somehow, some day, the nasty deadlock between President Donald Trump and congressional Democrats that's shuttered federal agencies for a record-tying 21 days will end. The only real questions are when, how and who will be crowned the winner?
The partial shutdown of the U.S. government has begun to make it harder to assess the health of the economy by delaying or distorting key reports on growth, spending and hiring.
Young people from around the world who provided low-cost child care for American families will share in a proposed $65.5 million settlement of a lawsuit brought by a dozen former au pairs.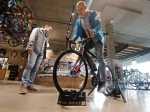 If you have a few extra bucks that you don't need for necessities like rent or loan payments, consider shopping for happiness.
They are scaling back spending, canceling trips, applying for unemployment benefits and taking out loans to stay afloat, with no end in sight for a partial shutdown that enters its 21st day Friday.
For many people, including those with a solid financial stand, loans are inevitable. However, it is not always certain that your loan application will get approved; here are 5 ways you can improve your chances of getting your loan approved.