Top Story
The American Psychoanalytic Association (APsaA) has apologized publicly for its previous classification of homosexuality as a mental illness, saying its mistakes contributed to dis...
1 thru 10 of 1583 Stories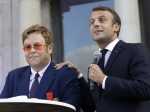 Elton John, a newly awarded Legion of honor pinned to his suit, joined a call Friday by French President Emmanuel Macron to fund AIDS research and treatment.
As the federal government prepares to launch an ambitious initiative to end the HIV epidemic, the director of the Centers for Disease Control on Friday applauded an Alabama HIV clinic's commitment to providing health services to rural communities.
A new Trump administration proposal would change the civil rights rules dictating whether providers must care for patients who are transgender or have had an abortion.
The impact of San Francisco General Hospital's ward 5B — the first hospital division dedicated to treating people with AIDS — has far outlasted its existence.
A federal jury in Kentucky has convicted a man of leaking a database of HIV patients from the Singapore government.
People with a DNA mutation that reduces their chance of HIV infection may die sooner, according to a study that suggests tinkering with a gene to try to fix one problem may cause others.
El Salvadorian transgender woman Johana Medina Leon, 25, died in a medical facility in Texas Saturday, four days after being released from Immigration and Customs Enforcement custody.
Pakistan's police say they have arrested a man who killed his HIV-positive wife and hung her body from a tree in southern Sindh province, where hundreds of people have tested positive for the virus.
A former nurse charged with sexually assaulting an incapacitated woman who later gave birth at a Phoenix long-term care facility has appealed a court order requiring a test to determine if he has HIV or other sexually transmitted diseases.
A local physician who has AIDS has since been arrested and is being investigated for possibly intentionally infecting patients.
1 thru 10 of 1583 Stories